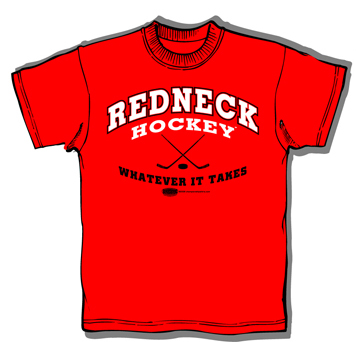 While everyone else in the world has their attention firmly focused on the
World Cup
, us crazy backwards
rednecks
down in North Cackalacky have our eyes steadily situated on the
Stanley Cup
. Yep, that's right, rednecks love hockey! Who woulda thunkit? Of course, if you look closely at a redneck and a hockey player you will notice some striking similarities. For example: lack of teeth, surly disposition, always holding a stick,
etc.
Now Redneck Hockey paraphenalia may not be Limited Ed. (I have seen it all over town), but it is sometimes hand-made. Of course, if you are not willing to make your own bedsheet-turned-Redneck-Hockey-banner, you might consider purchasing one of these fine
Redneck Hockey
[pictured above],
Property of Caniacs
or
Puck Edmonton
t-shirts. They are all quite stylish and made out of cotton. Cotton, people! You can't beat that! And you can't beat the
'Canes
. Just like you can't beat a redneck. Dumb bastards just come back for more. Go 'Canes!