Here are a couple of items I figured I should share while I have a little down-time. Oops, there's the phone. Alright, I'm back. My life has gotten so busy lately, pulling double shifts working on the
Prime Building
website and answering phones at the
Plum Spring Clinic
. And now it looks like my website business is about to really start picking up. And then you have the variety show for
The People's Channel
that Mac is putting together. Busy, busy, busy, but not too busy to let y'all know about some haps on the taps.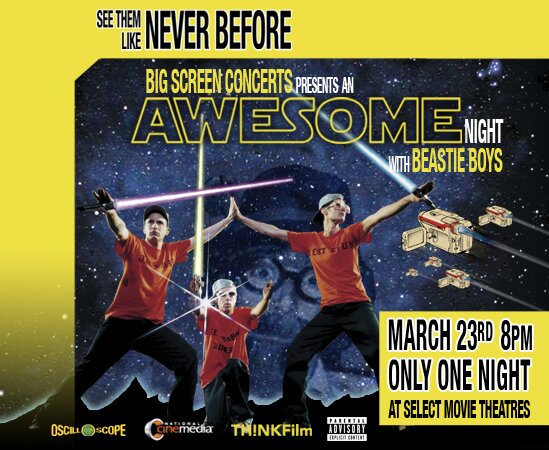 First up, the Beastie Boys' docu-whatever,
"Awesome; I Fuckin' Shot That!"
will be shown as a sneak preview on 150 screens nationwide on March 23
rd
. The sneak preview will also feature the premiere of "A Day In The Life Of Nathanial Hörnblowér" a special half-hour addition to the film that will not be shown with the March 31
st
general release. You can click
here
to find out if it will be playing near you. Personally, I would have to drive to either Garner or Asheboro to see it, so I will probably miss out on Herr Hörnblowér's majesty. I guess I'll just have to wait for the DVD and hope it is a special feature or Easter egg. If anyone out there can sneak a camcorder into the event and record and send it to me, I would appreciate it. I might even send you something from my personal stash of collectibles in return.
And lastly, since I am almost out of time, there is a new (I think) Limited Ed. sneaker and clothing store on the interwebthingy called
Sold Out!
Apparently in association with
Colette
and
La MJC
, this new site specializes in Limited Ed. and small run sneaker ranges. The site features a quantity meter, letting you know how many pairs of each sneaker are left in stock. The shoes may be pricy, but they are the kind of thing you aren't likely to find anywhere else. They also feature t-shirts and other clothing as well as Limited Ed. toys, collector's items, and a section for Sold Out Goodies that will be coming soon (just like me!).