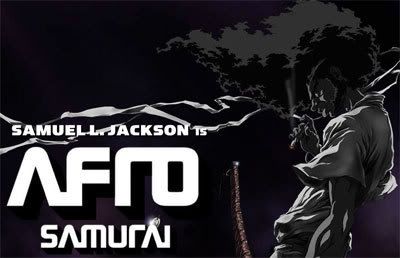 When I first started collecting Limited Ed. Asian action figures several years ago, one of the first ones I got was Afro Samurai, a character from a popular Manga series created by
Takashi Okazaki
. Now, the
Afro Samurai
mini-series is coming to TV. Produced by and starring Samuel L. Jackson, it will be featured this season on
Spike TV
. From what I've read on the
IMDb message-board
, it looks like the show has been postponed until January, but you can still watch a trailer for it and get all excited. I'm going to have to find someone with cable to tape it for me. Then I can bust out my action figure and recreate scenes from the show. Yippee!
P.S. Today is my girlfriend
Anne's
21st birthday! Happy birthday babe! Let the drinking begin!