Her hardest hue to hold. Gold and green is such a nice color combination, especially when it is a gold watch with a green face.
For the ultimate in luxury, nothing really tops a Rolex, and this gold and green
GMT Master II
is an excellent and beautiful example. Sure Patek Phillipe is the absolute top-of-the-pops when it comes to watches, but Rolex is luxury that, if you can afford it, you would actually be willing to wear around in public. The Rolex GMT Master II features a 31 jewel movement, is 18k gold, has a ceramic rotating bezel, and is water-resistant down to 100 meters. It also features a date bubble and an independently adjustable 12-hour hand for multiple time-zone use. And for only $26,495.00, what a bargain!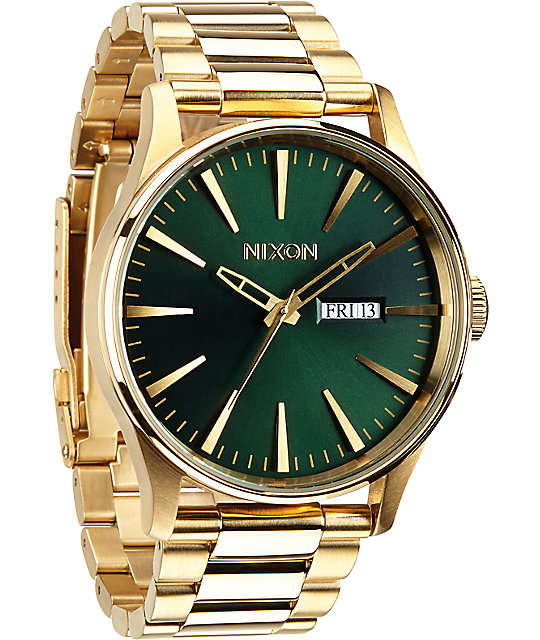 For those who may not have as deep pockets, Zumies has you covered with a couple of more affordable, exclusive green and gold watches. First is the
Nixon Sentry SS
(pictured above). This watch is also water-resistant down to 100 meters, has a day and date window, and a Japanese quartz movement. Pretty spiffy for $250! Not as nice as a Rolex, but who has almost 27 grand to drop on a watch? That's more than my house is worth!* Zumies also has an
exclusive Nixon Cannon watch
in the gold and green colorway for a hundred bucks less!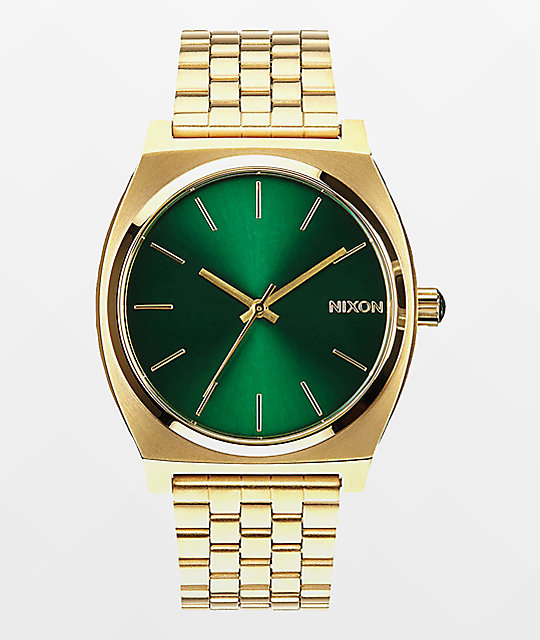 If you are looking for something that is fun, cheap, but still looks like a million bucks, Zumies has you covered with this non-exclusive but still attractive
Nixon Time Teller
in gold and green. It's less than $100, which means most folks won't have a problem with wearing this as their daily go-to watch. Which means you can look snazzy every day of the year!
*Ed. note: I live in a van, down by the river.