Tan can be bland, it can be boring. It can be vanilla. But vanilla can be delicious. It can add a lot of character to a dish. Tan can do the same thing to an outfit.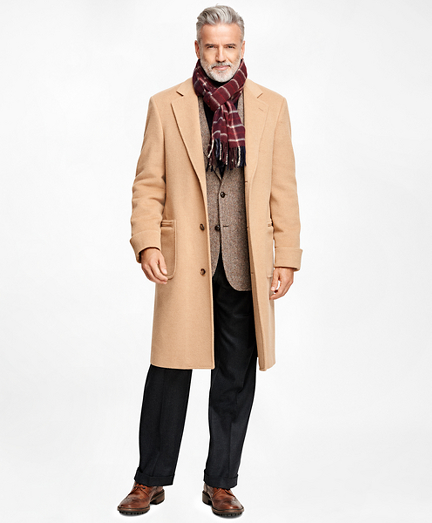 For example, one rendition of tan is camel hair, as in this
Golden Fleece® Single-Breasted Polo Coat
from Brooks Brothers. I like Brooks Brothers, I really like their style, and this camel hair coat is no exception. Unfortunately, my wallet does not like their price. My wallet weeps when it sees prices in the four digits. For something a little more wallet-friendly, check out Jos. A. Bank's
full length camel hair topcoat
. I'm pretty sure the quality and construction won't match up to the Brooks Brothers version, but your wallet doesn't need to know that.
Tan can also mean khaki. Or is it the other way around? Khaki is a loan word from Hindustani meaning soil-colored. Khaki can mean adventure. It can represent English military abroad. When your adventures are of the pushed-four-wheel variety, but you still want to keep it khaki, these
Vans' V56 Standard Inglewood Pants
will definitely do the trick. Get it, do the trick, because you do tricks on a skateboard. Did you see what I did just there? Anyway, these standard fit khakis feature cotton and elastane construction for some give and stretch with your pop and flick.
If gleaming the cube isn't in your bag of tricks, but you still want to keep it cool in tan, you can't go wrong with a fresh pair of Tims. Everyone from construction workers to hip-hop moguls rocks Timberland boots. Alright, maybe just those two demographics. But Timberland boots can be stylish, too. Like the two shades of tan on these
Abington Boothbay Chukka Boots
. Try saying that three times fast! These chukka boots aren't exactly what you might think of when you think of Tims, but they are quite styley and would look great with a nice brown wool suit, tan sports coat and jeans, or the above mentioned camel hair coat and khaki pants. Any way you rock it, tan is the man!