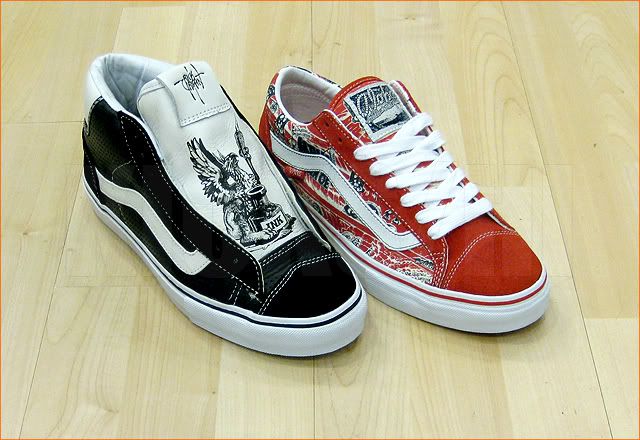 I have been laying in wait, lurking, waiting for something interesting enough to come along to post on my blog. Something, hopefully, that hasn't been killed by everyone else out there. I'm not sure if this is that thing, but I know it is cool, so I had to say something. I just got an e-mail last night from my favorite local Hawaiian kicks shops, not ironically know as
KICKS/HI
, with information about two new pairs of
Vans
that are now available in their shop. Vans are my new favorite shoe, not only for their comfort and good looks, but also because they are, in my humble opinion, the best shoes to skate in. Of course, I have only skated in Vans, Nikes, and DC shoes, so I can't say that definitively. Anyway, as I was saying, KICKS/HI has two new pairs of Vans designed by one of my favorite graphic artists from back in my hippie Grateful Dead days,
Rick Griffin
(R.I.P.). If you don't know Rick Griffin, go look at some rock posters from the 60's, especially those of the
Grateful Dead
, and you will know man, you will know! It is some super psychedelic stuff. Now his signature ink has been used on a pair of Vans Mid Skool '77s and Old Skool '77s (pictured above, left to right). I don't know which ones I like better. I like the black and white ink style of the Mid Skools, which, if they were slip-ons, would definitely be my preference. But I also like the red suede and patterned textile of the Old Skools. It is enough to make a poor man drool. Unfortunately, I broke my board this morning doing ollies behind my apartment building, so I won't need any more skate shoes any time soon. I guess I will be
walking in LA
for a while. More pictures below.